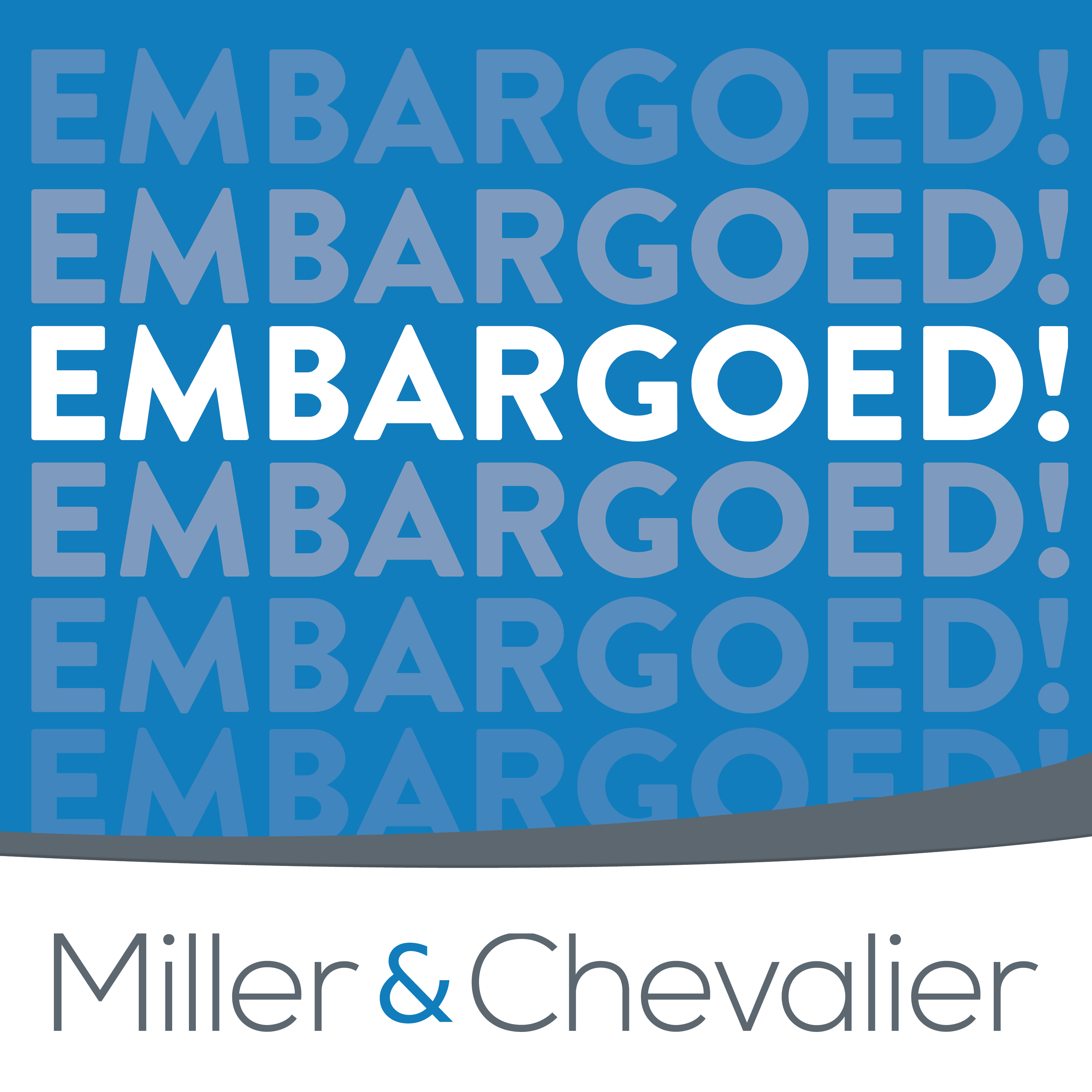 In this week's EMBARGOED!, Brian and Tim discuss OFAC's recent pronouncements on risk-based compliance and humanitarian assistance and what they mean for companies balancing the demands of the COVID-19 pandemic. We also cover new guidance on exemptions from FEMA's PPE export restrictions, the possible end of an era in Venezuela, and North Korea's ignominious moment in the spotlight. Plus, the Lightning Round features quick takes on the Industrial Bank of Korea DPA, the resuscitation of two lawsuits seeking damages for confiscated property in Cuba, and the prospects of U.S. sanctions against Iraq.
Questions? Contact us at podcasts@milchev.com.
EMBARGOED! is not intended and cannot be relied on as legal advice; the content only reflects the thoughts and opinions of its hosts. EMBARGOED! is intelligent talk about sanctions, export controls, and all things international trade for trade nerds and normal human beings alike, hosted by Miller & Chevalier Members Brian Fleming and Tim O'Toole. Each episode will feature deep thoughts and hot takes about the latest headline-grabbing developments in this area of the law, as well as some below-the-radar items to keep an eye on. Subscribe for new bi-weekly episodes so you don't miss out!
Apple Podcasts: https://apple.co/3bDJnmU
Spotify: https://spoti.fi/2xAJ9ye
Google Play: https://bit.ly/3bAU0Hc
Stitcher: https://bit.ly/3awf95i
Timestamps:
0:11 Introduction
The Rundown:
3:19 OFAC Compliance
11:00 OFAC Humanitarian Assistance
20:24 Update on PPE Export Restrictions
28:20 General License 8F and the End of Chevron's Run in Venezuela
8:01 DPRK Cyber Guidance and U.N. Report
47:50 Lightning Round:
8:09 Industrial Bank of Korea DPA
53:50 Cuban Confiscated Property Lawsuits Revived
58:51 Playing a Game of Chicken with Russia re: Syria and Iraq
1:02:20 Final Thoughts
***Stay sanctions free.***