Episodes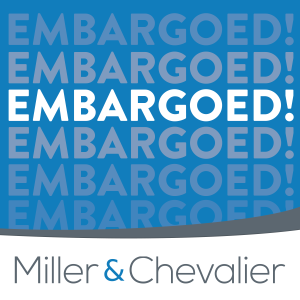 Thursday Feb 17, 2022
Thursday Feb 17, 2022
Brian and Tim discuss the new E.O. aimed at resolving the question of what to do with Da Afghanistan Bank's assets in the U.S. and debate whether it will work as intended. Next, they place bets on whether it's too late for JCPOA 2.0 to happen and discuss how far the U.S. may be prepared to go to impose costs on China if it disregards the (possible) "crushing" sanctions that could be imposed upon Russia. Finally, Brian and Tim stick with China to briefly cover the recently unsealed trade secret theft charges against Hytera Communications and an atypical CFIUS review initiated by a U.S. company unhappy with its Chinese investors.  
********
Questions? Contact us at podcasts@milchev.com.
EMBARGOED! is not intended and cannot be relied on as legal advice; the content only reflects the thoughts and opinions of its hosts.
EMBARGOED! is intelligent talk about sanctions, export controls, and all things international trade for trade nerds and normal human beings alike, hosted by Miller & Chevalier Members Brian Fleming and Tim O'Toole. Each episode will feature deep thoughts and hot takes about the latest headline-grabbing developments in this area of the law, as well as some below-the-radar items to keep an eye on. Subscribe wherever you get your podcasts for new bi-weekly episodes so you don't miss out!
Roadmap: 
Introduction
The Rundown

New Afghanistan E.O.
JCPOA 2.0 Predictions
Russia and China are BFFs?
Hytera TS Theft Indictment
The Curious Case of Icon Aircraft and CFIUS

Final Thoughts
***Stay sanctions free.***