Episodes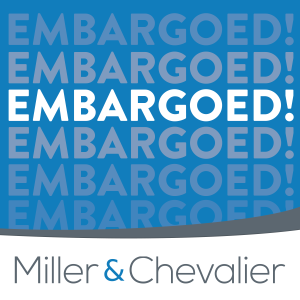 Wednesday Jun 01, 2022
Wednesday Jun 01, 2022
In a refreshing change of pace, Brian and Tim spend time on one of their favorite non-Russia topics, China. First, they discuss President Biden's pledge to defend Taiwan from a PRC invasion and what it means (if anything). Next, they discuss the state of China's imports to Russia following the invasion of Ukraine and the growing debate over various proposals in the U.S. to create a "reverse CFIUS" process to review outbound investment to China and other countries of concern. Finally, Brian and Tim cover two new U.S. government advisories focused on North Korean IT workers and Sudan, respectively. 
********
Questions? Contact us at podcasts@milchev.com.
EMBARGOED! is not intended and cannot be relied on as legal advice; the content only reflects the thoughts and opinions of its hosts.
EMBARGOED! is intelligent talk about sanctions, export controls, and all things international trade for trade nerds and normal human beings alike, hosted by Miller & Chevalier Members Brian Fleming and Tim O'Toole. Each episode will feature deep thoughts and hot takes about the latest headline-grabbing developments in this area of the law, as well as some below-the-radar items to keep an eye on. Subscribe wherever you get your podcasts for new bi-weekly episodes so you don't miss out!
Roadmap:
Introduction
The Rundown

Biden Vows to Defend Taiwan
Chinese Exports to Russia Decline
Reverse CFIUS
DPRK IT Worker Advisory

Lightning Round: Sudan Business Advisory
Final Thoughts
***Stay sanctions free.***