Episodes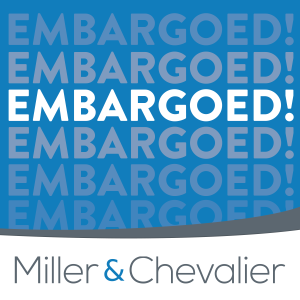 Thursday Jan 13, 2022
Thursday Jan 13, 2022
Brian and Tim kick off 2022 by diving deep on Russia and the crisis brewing at Ukraine's border. They discuss the "punishing" sanctions that could be coming if Russia invades Ukraine, Nord Stream 2 (of course), and what companies should be doing right now to prepare for the worst and mitigate risk. In the Lightning Round, Brian and Tim share quick thoughts on the Uyghur Forced Labor Prevention Act, new Commerce Department appointments, and OFAC's recent enforcement action against Airbnb Payments.
********
Questions? Contact us at podcasts@milchev.com.
EMBARGOED! is not intended and cannot be relied on as legal advice; the content only reflects the thoughts and opinions of its hosts.
EMBARGOED! is intelligent talk about sanctions, export controls, and all things international trade for trade nerds and normal human beings alike, hosted by Miller & Chevalier Members Brian Fleming and Tim O'Toole. Each episode will feature deep thoughts and hot takes about the latest headline-grabbing developments in this area of the law, as well as some below-the-radar items to keep an eye on. Subscribe wherever you get your podcasts for new bi-weekly episodes so you don't miss out!
Roadmap:
Introduction
The Rundown: RUSSIA!
Lightning Round

Enactment of the Uyghur Forced Labor Prevention Act
New Commerce Department Appointments Take Their Posts
OFAC Settlement with Airbnb

Final Thoughts
***Stay sanctions free.***